Crguk-Culinary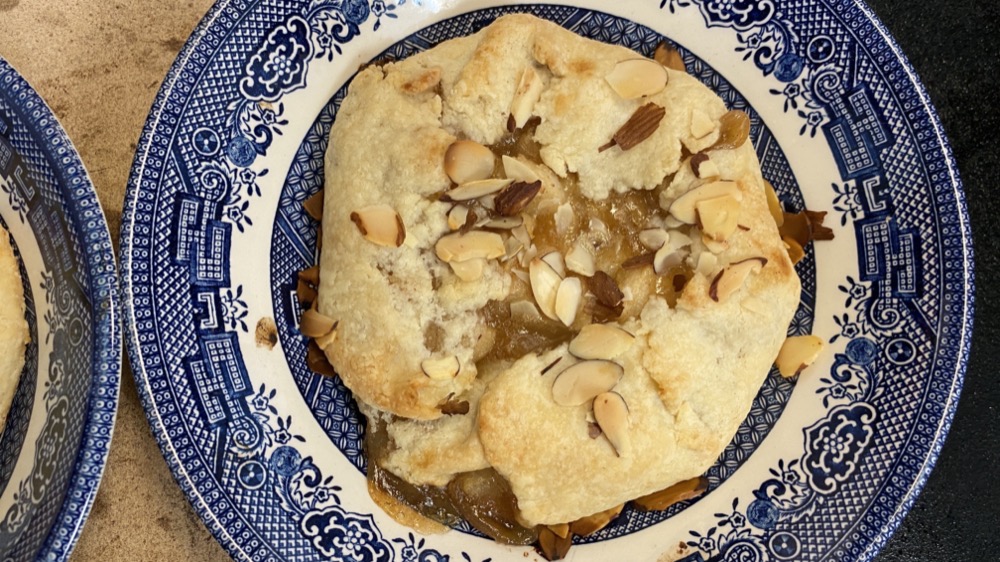 Sometimes it's fun to use oven-proof soup bowls to make little fruit pies or tarts in. They can be reheated right in the same bowl, they look pretty and there's no dirtying anything extra. We had a restaurant customer that said (many years later) how she always remembered being served a plum tart that had been made in a one of our soup bowls. It like a custom packaged treat!
BE SURE TO USE OVEN PROOF BOWLS!
For my regular pie recipe and video click here. I made this dough the same way, but used a little higher butter-to-flour ratio and also used all purpose flour as I know many people don't have access to pastry flour as in my original video.
Recipe
Dough
6 oz. all purpose flour (1 + 1/4 cups)
1/4 teaspoon salt
1 tablespoon sugar
4 oz. cold butter (8 tablespoons or 1/2 stick), cut into small pieces
Measure flour, sugar and salt into a large bowl.
Rub or cut butter with a pastry blender into the flour until pieces are quite small (like little flakes or pebbles). This can be done in a food processor with a cutting blade. Try not to let the butter melt. If using a food processor, transfer the mixture to a bowl and add water as in Step-3.
Add water gradually, while tossing the mixture with fork. If the mixture appears dry, add a little extra water, one teaspoon at a time. If it seems too wet (this is most likely to happen on humid days) don't add all of the water. If necessary, you can add a little more flour, but try to avoid this. On a hot day, use ice water.
Gently shape the mixture into 4 small balls of dough, dust with flour and flatten slightly. Wrap well and refrigerate until needed. May be stored in the refrigerator for 1-2 days or in the freezer for a longer period of time.
Filling
For the filling, just toss the following ingredients together. Do right before making the tarts.
3-4 cups diced pears
zest from half of lemon
1/2 cup brown sugar or to taste
3-4 tablespoons flour (depends on the moisture content of your pears)
1/4 teaspoon cinnamon
Roll out each ball of dough fairly thin and large enough to fit your bowl. (BTW – Can also be made without bowls and just placed on parchment paper lined baking sheets.) I like to use a pastry cloth to roll the dough on (or as in the case of my little video, a large dishtowel). Also, a sheet of plastic on top of the dough is very helpful too.
Fill with a quarter of the fruit mixture and fold edges of the dough over the filling as shown in video.
Top with almond slices (or not – it's up to you!)
Bake at 400F for about 25 minutes. BE SURE TO USE OVEN PROOF BOWLS!