Crguk-Culinary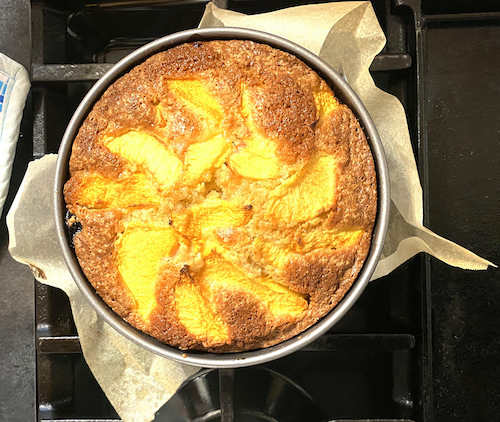 I shop at Aldi frequently and love looking at their special buys. This week I came across this cute little "Made in Germany" Springform pan. I couldn't help from buying it! I like the German style springform in that the bottom locks in tightly and creates a little tray. Also, the parchment paper can easily extend beyond the borders of the pan, meaning I don't have to cut little circles out of parchment paper!
Here is a little recipe and my review:
Blueberry Peach Cake
You can use many types of pans to bake this super moist light cake. To prepare an 8 x 8 glass square pan, just spray with non-stick spray. To prepare the springform pan, line with parchment paper and spray with non-stick spray.
Ingredients
1 cup sugar
1 1/4 cups all purpose flour
1/2 teaspoon baking powder
1/2 teaspoon baking soda
1/4 teaspoon cinnamon
2 large eggs
1/4 cup oil
1/2 cup yogurt
1 teaspoon vanilla extract
1/2 teaspoon almond extract
1/2 teaspoon lemon zest
i large peach, peeled and sliced
1 cup fresh blueberries
Method
Combine first 5 ingredients in a bowl. Whisk together. If lumpy, sift.
In a separate bowl or large measuring glass, combine eggs, oil, yogurt, extracts and zest. Mix well.
Add liquid ingredients to flour mixture amnd mix until just incorporated. Gently stir in blueberries.
Place half of the peach slices in the bottom of the prepared pan. Pour over batter and then arrange the remaining peach slices on the top.
Bake in a preheated 350F oven until a toothepick inserted in the center comes out clean. The square pan should take about 45 minutes. The 7 inch springform pan takes about 65 minutes.
If using the springform pan, let the cake cool in the pan for about 10 minutes. Then carefully run a knife (don't want to scratch the pan)around the edge of the cake and open the springform. Cool on a rack and dust with powdered sugar to serve, if desired. A little whipped cream or ice cream would be nice too!
Review: I like the pan's baking quality. The cake came out of the oven with a beautifully proportioned top crust. It released from the pan easily and the crumb was gentle, even and moist. The only downside is that it's a "non-stick" pan, but for $4.99, I can't complain. Just be careful and try not to scratch the surface. Happy Baking! -Susan