Crguk-Culinary
This is my second article comparing a kitchen product purchased while on vacation in Paris with a similar product found in American grocery stores. The funny thing is that this comparison actually involves two products that are made in France – bleached and natural parchment paper. I didn't have experience with natural baking paper and was curious how it would compare side by side with the bleached white variety.
The Reynolds version (top in the above pic) is the type I see most often in local stores.
The paper is made in France, packaged in the U.S., very high quality and allows for the baking of several batches per sheet. The natural Alfapac baking paper that I purchased in Paris (bottom in above pic) is also a very nice quality, but feels thinner to the touch.
I made a batch of chocolate chip cookies and baked some on each kind of paper.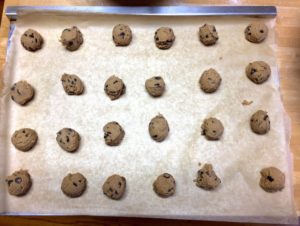 Raw dough on natural parchment paper
Raw dough on bleached parchment paper
 
Results:
The natural paper was easier to work with, because it didn't curl up as much as the Reynolds
 Reynolds paper could probably bake more batches per sheet as it was more durable.
The natural paper tended to burn on the edges more easily.
The baked cookies looked quite similar, but I preferred the ones made on the natural parchment paper. They spread just the right amount and baked more evenly, although it's a little difficult to tell from the photos below.
I like the width of the natural paper, because it fit my pans without trimming.
Both papers provided excellent non-stick surfaces.
I love chocolate chip cookies.