Crguk-Wine
Homemade orange oil cleaner that is safe and nontoxic as an all-purpose cleansing solution for kitchen and baths. Works for windows too!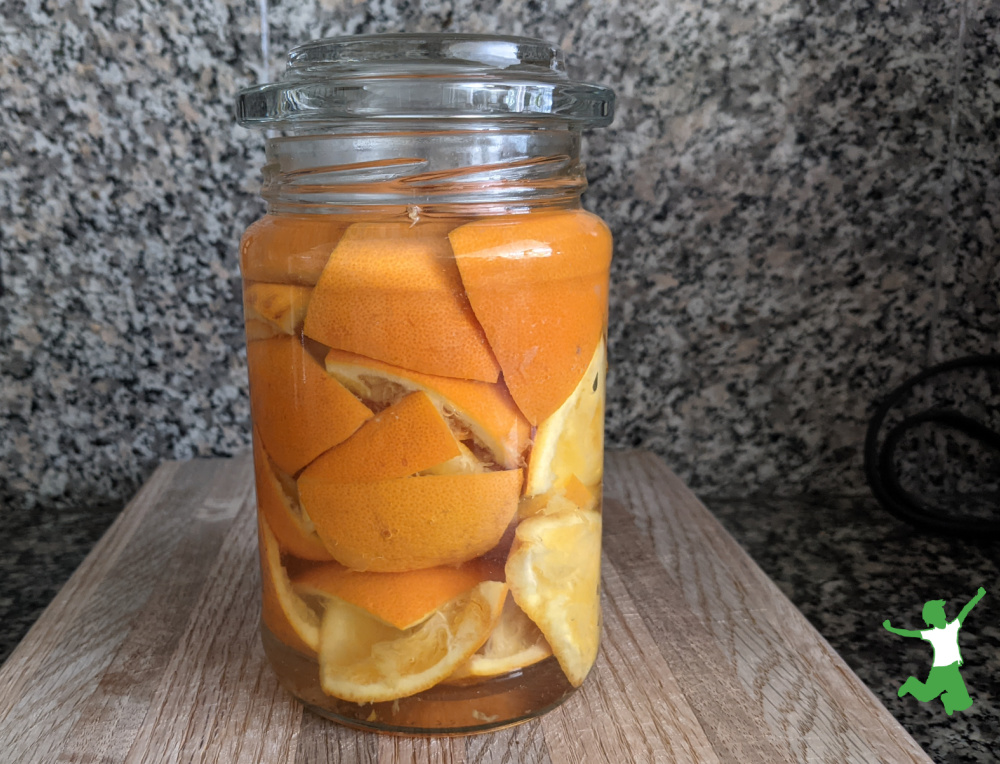 Commercially made citrus cleaners tend to be a pricey option for consumers seeking safe products for household cleaning.
And while many are marketed as natural, the labeling is evasive for the more popular brands, leading an analytical consumer like me to conclude that they contain chemicals just like more toxic alternatives.
Free Weekly Newsletter + Report on Secrets of Strong Immunity
For example, the product Citrus Magic contains the following ingredients:
Water, vegetable derived cleaners, natural and organic citrus oils, and sodium citrate.
Why aren't the "vegetable-derived cleaners" specified by name?
Perhaps the complete list of ingredients is safe. More likely, however, they are not, else the company would be completely transparent about the specific names and list them on the label.
More consumers are realizing that making your own citrus all-purpose cleaner is worth the effort.
It takes little time, costs pennies per ounce, and is truly safe for children and pets. It also works just as well as commercial versions!
As a bonus, you get a pint or so of fresh orange juice for your efforts! This is because the process of making homemade citrus cleaners involves juicing the fruit first. Try this fermented orange juice recipe if you'd like to culture the OJ instead.
Then, instead of discarding or composting the peelings, you use them to make your citrus cleaner.
The grease and dirt-cutting orange oil is only in the peel. It contains D-limonene, the naturally active ingredient. Note that it is not the same as orange essential oil.
I use a spray bottle diluted 1:1 for quick cleanups in the kitchen and bathrooms.
It works for window cleaning too! No more holding your breath to avoid inhaling the toxic ammonia spray from commercial window cleaners!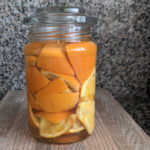 Homemade All-Purpose Orange Oil Cleaner
Homemade citrus cleaner that is safe and nontoxic as an all-purpose cleansing agent for kitchen and baths. Cleans windows without streaks too!
Total Time
14
days
10
minutes
Ingredients
6




medium




oranges




preferably organic or local

1/2




pint




nonGMO white vinegar
Instructions
Wash oranges in warm, soapy water. Rinse well.

Slice oranges in half and remove pulp either with a hand press juice or a knife. Slice peels in half and pack tightly in a quart sized glass jar.

Fill the jar with white vinegar to just above the peels. Use a fermentation weight or a clean stone to keep the peels below the surface of the liquid.

Screw on the lid and leave on the counter for two weeks.

Strain the orange-infused vinegar and dispose of the peels (do not compost).

Dilute the vinegar with water 50-50 in spray bottles for nontoxic cleaning in the kitchen and bathrooms. Works for windows at the same or slightly lower dilution ratio (1:1 or 1:2).