Crguk-Marketing
Every business has goals for growth, as do their individual teams. Effective marketing asset management can be a vital factor in determining whether you hit your targets. Without it, companies too often waste a lot of time and effort looking for assets or recreating lost files because of their disorganized systems.
When it comes to productivity, your workflow is only as smooth as its underlying systems. Poor asset management can compromise your brand, your sales opportunities, and even your business reputation. Ultimately, as the author James Clear puts it, "you do not rise to the level of your goals—you fall to the level of your systems."
Read on or skip ahead below as we explore marketing asset management, discussing the major pitfalls that derail many companies, and give you the best practices and advice you need to set up your systems for success.
What is Marketing Asset Management?
6 Marketing Asset Management Mistakes
6 Best Practices for Marketing Asset Management
How to Improve Marketing Asset Management
What is Marketing Asset Management?
Marketing asset management is the process a business uses to create, store, manage, and share marketing assets in a central location that makes it easy for team members to access, use, and distribute.
The company can use marketing assets for external or internal use. Some examples of external marketing assets include:
Infographics
Blog posts
Ebooks
Landing pages
Product videos
Sales letters
Website content
Brand collateral
Examples of internal marketing assets include:
Brand guide
Competitive sell sheets
Emails
Cheatsheets
These assets help promote a business's products or services or the brand itself. With a clear, coherent system and easy access, your team can use these resources to support the business objectives.
Marketing asset management focuses on managing forms of enterprise content including, digital files, brand documents, and media assets. We must not confuse marketing asset management with asset management marketing, which is the marketing of investment assets. Although these two terms are similar, they refer to entirely different topics.
6 Marketing Asset Management Mistakes
An estimated $300 billion is wasted by brands recreating misplaced digital content. If your company isn't putting marketing assets to work, the cost and waste add up quickly. Unfortunately, many companies lose a lot of money because they make easily avoidable mistakes. Here's a rundown of common problems to avoid with your marketing asset management:
1. Creating Bottlenecks
Sometimes, it's easier to let one person gather client input and relay it to the rest of the team. However, as the workload increases, this individual may not be able to handle everything alone. Inevitable disruptions and delays hit the workflow, and mistakes can happen.
In the long run, this structure can harm your client or customer experience, and you may lose business opportunities as a result.
2. Communicating in Too Many Channels
While constant contact may seem like a good thing, it can hurt your asset management efforts. Too many channels can create confusion or digital exhaustion, which hampers productivity.
In the age of SaaS and mobile apps, the temptation to use integrations and different messaging apps will always be there. Still, it may, ironically, lead to a disconnected experience if you persist with communication via multiple channels.
Unless you can seamlessly transition from one channel to the next, the user experience will suffer when adding more channels.
3. Failing to Create a Process
Having a well-thought-out process is the foundation on which you base your marketing strategy. With standard operating procedures (SOPs) in place, your team can ensure a consistent brand experience while reducing unexpected delays and miscommunication.
Without SOPs of how you use marketing assets and employ brand messaging, your brand experience will not be as engaging, and you may struggle to attract leads, launch campaigns and close deals.
4. Not Using Version Control
Version control is a critical aspect of marketing asset management, as your team should have the option of restoring older versions in case of any errors.
Without proper version control, you can lose a lot of time trying to replicate older versions. In the long run, there is an increased probability of teams working with files that are out-of-date, duplicates, or unapproved.
Implementing version control ensures accurate and cohesive brand communication. It also gives creatives a point of reference when retrieving the previous version of an asset.
5. Wasting Time Looking for Files
In the past, teams at many organizations wasted hours each day looking for specific files. Thankfully, technology offers businesses the tools to properly organize, store and distribute content now.
However, even in the 2020s, many companies still don't keep all their assets in one place. Also, many organizations don't use a standard procedure to name or tag documents to guide users. Inevitably, this lack of planning causes havoc as the company creates more assets, which eventually leads to wasted time and mix-ups as employees look for the documents they need.
6. Using the Wrong Platform
Speed, integrations, and security are paramount for any addition to your tech stack. Anyone who needs access to marketing assets should be able to quickly find what they want or upload files of different sizes and formats. If your chosen platform doesn't support your asset management needs, it will limit your ability to access and distribute your assets.
10 Best Practices for Marketing Asset Management
As your company scales, keeping your assets organized becomes a crucial part of your overall marketing strategy. Here are ten marketing asset management strategies to help your team save time and be more productive in their efforts to grow your business and bottom line.
1. Collaborate Effectively
Setting up efficient systems for your teams to collaborate is essential for any company that wants to remain competitive in a rapidly evolving market.
By giving your teams the ability to customize assets while also retaining creative control to keep your assets on-brand, you can streamline workflows and accelerate the approval process. Ultimately, this extended access will save time and reduce bottlenecks.
2. Streamline Communication
Communication plays an integral role in the adoption of new systems within an organization. You could have the best marketing asset management tool, but if people don't know how to use it, it's all for nothing.
You must encourage company-wide conversations to get everyone on board with the new system. To do this, you can bring everyone together on a single platform and provide ongoing tutorials, how-to videos, and walkthrough guides to make it easy for people to use the new processes.
By nurturing a culture of co-learning and sharing information, you can improve communications. Hence, people are more engaged, and everyone knows how to review, approve and comment on all kinds of content, including videos, photos, and text files.
3. Simplify Search and Discovery
Storing assets properly enables teams to find what they're looking for when they need it—without wasting time. You should establish clear file naming conventions from the beginning.
For example, a simple convention like the following:
Blog post: [blog post title]
Image: [image content]
Video:
In addition to naming conventions, you can add metadata to files to make them easier to find. If you're not sure what metadata to include, a DAM platform like Brandfolder can do the work for you, automatically extracting the metadata and adding relevant tags. Brandfolder also has an in-document search function, if you need to find a specific detail.
4. Control Access and Permissions
Permissions are an important part of any marketing asset management system, as you need to determine who can access which files. Without controlled access, you're putting up all your assets for everybody to see. It's better to keep access for each folder contained to its respective team.
Brandfolder further enhances permission control by allowing users to set expiration dates for assets and collections, so they'are not accessible after a certain point in time.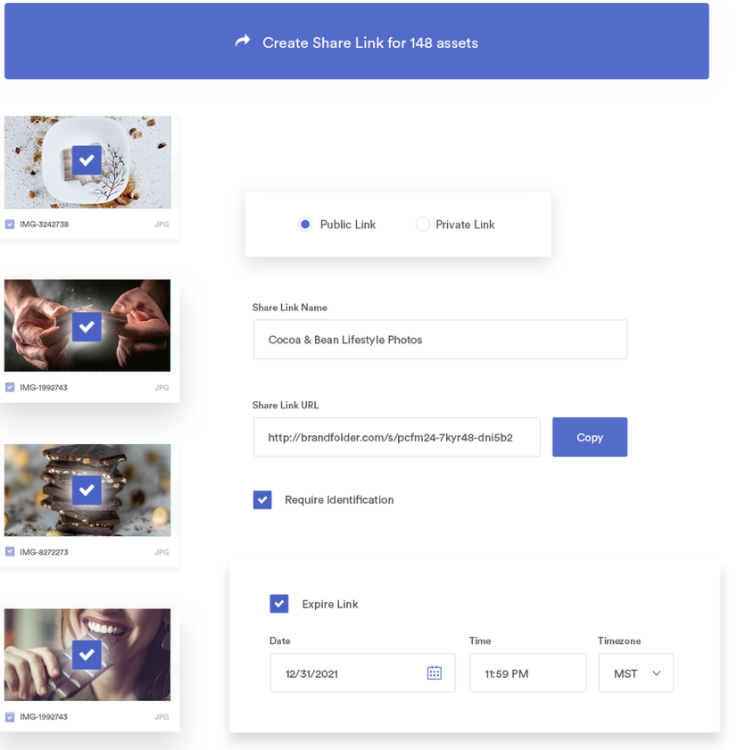 However, if you're in a marketing meeting, you should be able to quickly give access to specific folders or assets by providing a shareable link.
5. Establish Processes and Templates
Defining clear processes will help your team maximize the system you have for managing marketing assets. For instance, you can lay out the standard operating procedures for tasks like the following:
How to bulk upload and name files
How to edit and convert files
How to manipulate file size and type on export
How to crop assets to custom or preset sizes, including for use on Facebook, Twitter, Instagram, LinkedIn, or Pinterest.
How to edit files in bulk to save time
When you have templates that your team can access from anywhere, creatives can quickly produce deliverables that are consistent with brand guidelines.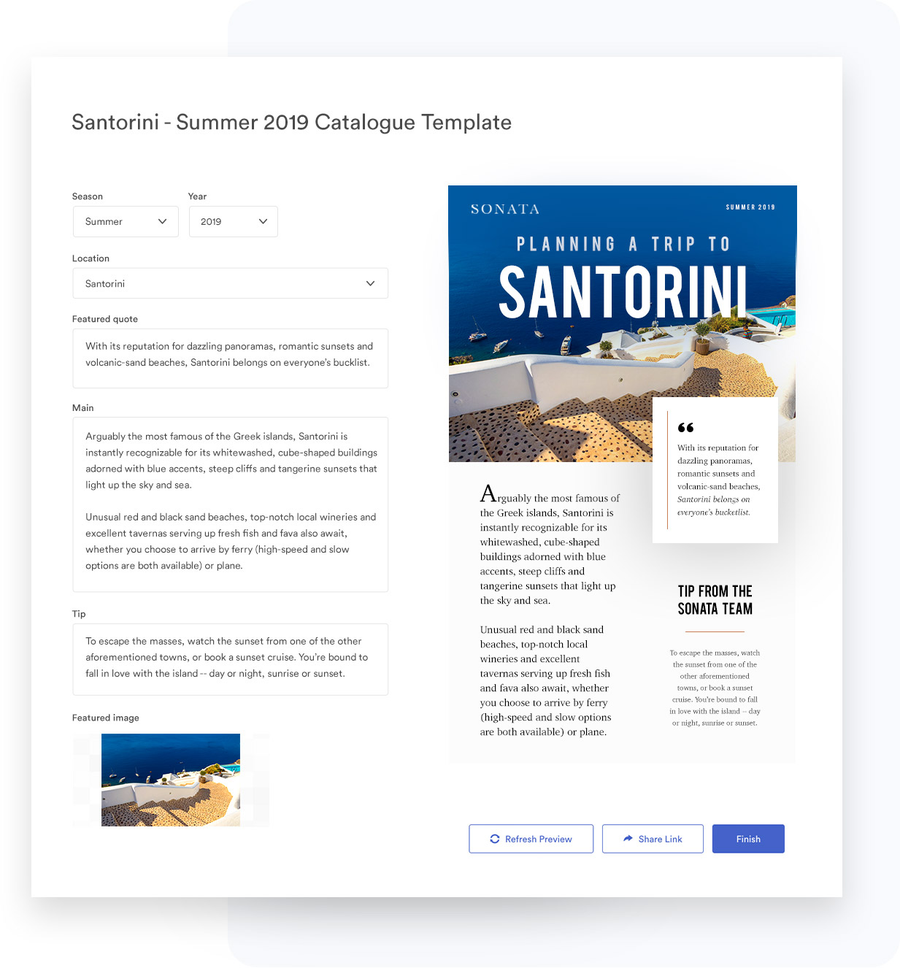 6. Implement Version Control
Sometimes, your content creation team might save several drafts, which can pose problems down the line if they don't consolidate or clean up the folder when they're done. Make version control a top priority in your SOPs to ensure your team can always find the most up-to-date edition of any asset.
When everyone in the organization can access the correct files, it helps improve efficiency across departments, teams, and distribution channels. This internal efficiency translates to more consistent external messaging and an enhanced experience for external stakeholders, like customers or business partners.
7. Review and Approve Assets
You'll need to invest in a solution that allows your teams to manage requests, reviews, comments, and approvals. By optimizing your systems, you enable your team to deliver better results.
Choose a solution that lets users comment and annotate on assets to improve collaboration throughout the review process. Brandfolder allows users to pin annotations directly on assets and notify the appropriate parties to review. This intuitive system moves the creative workflow forward, making it quick and straightforward to get final approval on new assets.
8. Develop Content Taxonomy
Content taxonomy is the process of applying classification principles to the different forms of content in your organization in order to make it easier to find and retrieve.
This philosophy encompasses your naming conventions and the platform's ability to use tags and labeling. With a consistent naming system used to index, tag, and retrieve assets, your team members can use descriptive terms to label assets and make them easy to discover in even the largest database.
9. Measure Assets Use and Performance
As with almost anything in marketing, it's crucial to measure performance. By analyzing the engagement, use of your assets, you can get the insight you need to make informed business decisions. This evaluation will help improve the overall efficiency of your organization.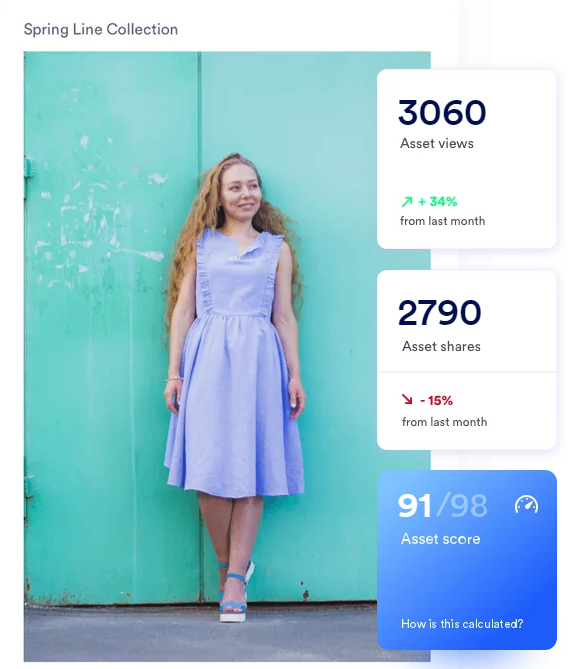 Source
Also, tracking performance metrics allows teams to know the impact of what they're doing. When users can view popular searches and results, they can focus on refining your assets and creating content that aligns with your audience's interests.
10. Use the Right Platform
You should build your marketing asset management system around a platform that can grow your business. Typically, you're better off with a scalable platform that offers cloud-based storage. That way, your entire team can access asset files from wherever they are, whether they're working from the company office or at home.
Specific features to look for in a marketing asset management system include:
Storage for any file type
Quick access to files in repositories of any size
Real-time collaboration, review, and asset approval
Permission and version controls that ensure security and brand consistency
The best marketing asset management platforms also include analytics data about usage and engagement of assets. This intelligence can help refine and improve your marketing.
Finally, choose a platform that can integrate with your existing technology stack and workflows to enable you to maintain consistency across all channels.
Who Benefits the Most from Marketing Asset Management?
Marketing asset management is best suited to enterprise brands, corporations, and large multinationals. These types of businesses have a significantly greater responsibility to maintain brand consistency and a unified customer experience across all channels than smaller businesses.
Large enterprises face the threat of content fragmentation, which is when sales and marketing content isn't in sync, and consequently, the brand fails to convey a clear, coherent message.
With marketing asset management, you can avoid this problem, no matter how big your organization is now or how much you plan to scale in the years ahead.
That being said, while enterprises and corporations can benefit most, others could consider marketing asset management, such as:
Resellers
Partners
Dealers
Sales teams
Branch managers
Print providers
Overall, anyone who needs to get more efficient at creating, distributing, or using branded content should think about implementing a marketing asset management system.
How to Improve Marketing Asset Management
Before you can try out the best practices discussed above, you must find the right solution for your business.
Brandfolder is a marketing asset management software designed to help businesses improve their brand management and ultimately derive more value from their brand assets.
Here are several ways Brandfolder can improve your marketing asset management:
Centralize your asset management
This intuitive platform allows you to store all your assets in one safe location. The solution supports every type of file from audio to video, images, and documents.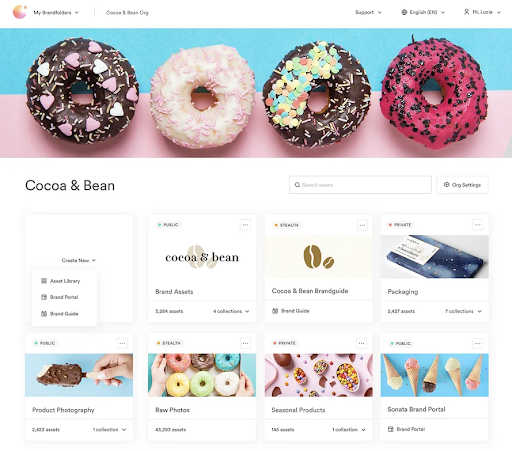 Streamline workflows across all teams
You can organize your assets in a way that's easy to find and locate. That way, your teams won't waste time searching for assets. It's also easy to customize the platform to meet your brand's specific internal and external assets. You can even integrate software into your website.
Simplify file discovery
Through a collection of metadata and taxonomy, your team will have no trouble finding what they want. Brandfolder uses smart search tools, including filtering and multiple searches for automatic file discovery.
Save time on bulk edits
One of the best features of this solution is the management tools that enable quick bulk editing. You can customize file size and type for bulk export, making approvals on large datasets in a fraction of the time.
Improve security
Customer data is your most valuable asset. With this leading solution, you have reliable encryption for safe file storage and transfer. The locked server access ensures top-notch security, permitting limited access through a single gateway host. You can control who sees what and when they see it. You also get alerts when access rights expire, enabling you to take immediate action.
Create a portal
Help clients find the right assets — and ensure they can access only the most recent ones — by setting up a client-facing portal. Giving clients this level of self-serve access reduces back-and-forth communication, which in turn boosts your team's efficiency.
For example, Russell Stover uses their Brandfolder to share access to different marketing and sales assets: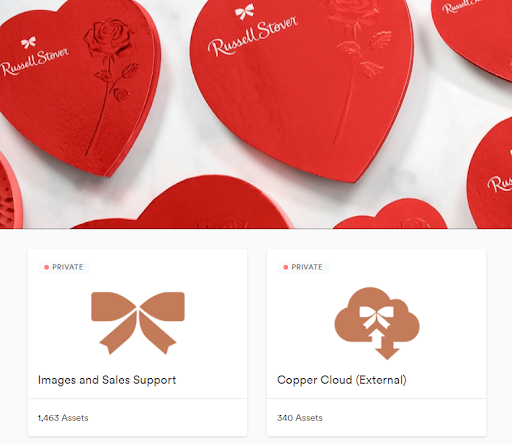 Wrap Up
Failure to control and manage your marketing assets can lead to inconsistent messaging and slow brand growth. Internally, poor management of your assets can cause bloated, disorganized systems, and confused, unproductive employees. Such a poor foundation offers no springboard for company growth.
With a marketing asset management solution such as Brandfolder, organizations can take charge of their branded assets. You can bring all your enterprise marketing assets together in a central system and devise processes that help your team collaborate and create in more effective, productive, and profitable ways.
Brand management doesn't need to be challenging. Get in touch with Brandfolder to see how you can get more value from your marketing asset management.