Crguk-Marketing
Microsoft's centralized digital storage software, Sharepoint, helps teams work together on creating and updating documents, custom lists, and other digital projects through its versioning and version control features. To put it simply, versioning is the method of numbering, organizing, and displaying recent changes in a document so teams can see how and when others have tweaked digital files.
That said, Sharepoint's version management capabilities are somewhat limited, as it doesn't integrate with apps like Adobe's Creative Cloud and mostly only works with Microsoft's suite of tools. Plus, versioning in Sharepoint can, at times, get a little disorganized.
You have to really pay attention to file names, or else you may end up with duplicates
Sharing files with external users requires certain permissions that burden the admin team
Files are organized in a folder structure, which can be difficult to navigate
However, there is a way to get past these issues: software that offers smooth workflow features, unlimited guest sharing, and smart searching functionalities. We specifically designed versioning in Brandfolder so you can see every version, who made the changes, prevent duplicates, and more. To learn about how it works, skip ahead to that section.
In this post, we'll walk through…
How versioning in Sharepoint works
The pros and cons of using Microsoft Sharepoint
How Brandfolder improves version control
What Brandfolder can do for you
*In addition to version control, Brandfolder also gives teams the capability to organize all digital assets (documents, images, videos, and more) in a clear, easy-to-search taxonomy and share digital assets with both internal and external parties. You can book a demo with Brandfolder to see exactly how our software streamlines collaborative work and digital asset storage. *
How Versioning in Microsoft Sharepoint Works
Version history is available in Sharepoint for all files in the Document Library — including Word documents, Excel spreadsheets, PowerPoints, and OneNotes — as well as custom lists. It only takes a few minutes to enable version control for both lists and libraries; however, version control is typically enabled by default for libraries.
Enabling Version Control & Adjusting Versioning Settings
To enable versioning:
Open the list or library in which you want to enable version control
Click the General Settings menu (the wheel and spoke icon) and scroll to either List settings or Library settings
Select Versioning settings
Once you're on the Versioning settings page, you'll have the ability to adjust a variety of version control settings for both documents and lists.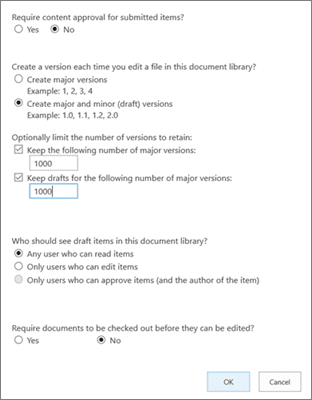 For Sharepoint documents, you can:
Create a new version for every document edit, using major versions or both major and minor versions
Limit the number of versions saved in the version history
Set restrictions on who can view drafts
Require documents to be checked before other users can edit them
Require content approval for newly submitted items
For Sharepoint lists, you can:
Create a new version for every list edit (lists only support major versions)
Limit the number of versions saved in the version history
Set restrictions on who can view draft items in your list
Require content approval for new list items
Once you've modified your settings to fit your specific needs, you're all set! You can also come back into these settings at any time to make changes or disable versioning altogether.
Viewing Version History in Your Document Libraries and Custom Lists
On each document library's home page, you can view a list of all Word documents, Excel spreadsheets, PowerPoints, and OneNotes you've added to that specific library. You can also see each file's metadata, including the name, type of file, when it was last modified, and who modified it.
Sharepoint also gives users the ability to add other metadata columns to sort and organize files. To add a column, click the Add Column button and choose what type of metadata you'd like to appear on the home page.
To view a specific file's version history, right-click on the file you're interested in viewing and select Version History from the drop-down menu that appears.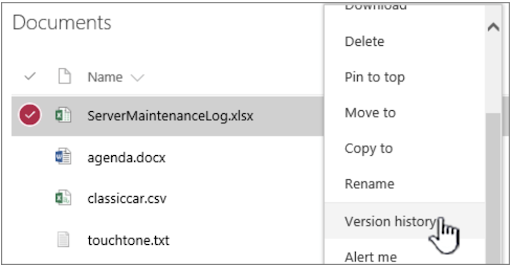 A pop-up window will appear on your screen listing major revisions; this pop up will also show minor revisions if they're enabled and you're working in a document library. Major revisions will appear as whole numbers (Version 1.0, Version 2.0, Version 3.0), while minor revisions will appear as decimals (Version 1.1, Version 1.2, Version 1.3).
So what's the difference between major and minor revisions? Minor revisions allow for very small changes and are usually only utilized for specific content approval scenarios. For the most part, users are working with and comparing major revisions within their Version History window.
On this pop-up window, users can see the specific date and time each revision was made, in addition to the file's size and additional comments left from other users. While you cannot view exactly what changes were made within each previous version on this screen, the window does display specific changes to metadata.

To view prior versions of files, click on the version you want to view. Sharepoint will then open the file in the native Microsoft application so users can view, save, download, or tweak past versions. This makes it easy to restore prior versions and/or compare earlier versions to more recent versions of the file.
Every time a change is made to a specific file in Sharepoint, or a new version of a file (with the same name) is uploaded, another version is generated in Sharepoint and available for view or download.
Restoring Old File Versions in Sharepoint
Restoring and deleting old versions can also be done right from the main Version History pop-up window. When you hover your mouse over each version, a clickable down arrow appears that opens another drop-down menu.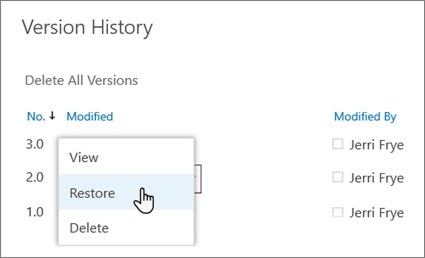 This menu gives you three options: View, Restore, and Delete. To restore, you'd click the Restore option, and this creates another major revision and makes that version of the file the most current version. But don't worry, the Version History window keeps all prior versions intact and listed below.
Comparing Versions in Sharepoint
To compare one version of a file to another, you'll start by selecting one of the versions in the Version History window and opening it in the native Microsoft application. Then, within the application, you'll select the Review tab from the top menu bar. This will change the lower menu, giving users a clickable Compare option.
Users can choose to compare the file to the last major revision in Sharepoint, the last version of the document saved on the server, or to a specific version in Sharepoint. This Compare menu also gives users the ability to compare versions in a single document (separated by a horizontal black line) or combine versions into one single document (with no horizontal line separating the versions).
When comparing two versions of your file, the Microsoft application you're working in will pull both versions and display them on the side of your screen, labeling each version so you know which is which.
How Does Version Control for Document Libraries Differ from Version Control for Custom Lists?
Version control between documents and lists doesn't differ too much apart from the fact that lists are created in Sharepoint and not another Microsoft tool. That means all changes to a particular list will be available to view right within the Version History window — like metadata — and you won't need to open each version to see how it has been changed.
Pros & Cons of Sharepoint for Document Management
Teams of all sizes, from individual departments within small businesses to large sectors of enterprise businesses, can use Sharepoint's basic versioning tools. The Version History window is pretty straightforward, making it easy to restore and compare specific versions of a single file. Not to mention, administrators can restrict access to who can make edits to an existing file in Sharepoint, allowing certain users to simply find the important documents they need and download them for their individual purposes.
Microsoft's Sharepoint is a good location to store all of your team's Microsoft documents; however, the software is somewhat out of date compared to other solutions on the market.
Despite its ease of use, Sharepoint does have some drawbacks. One being that Sharepoint doesn't integrate with a lot of other tools and applications. If your team is used to using Google Drive, you'll have to convert all Google Docs, Sheets, and Slides to Microsoft's equivalent before you can work on them in Sharepoint. The version history of those Google files will not transfer over to Sharepoint, either. There is also no way to upload and view the version history of things like Photoshop images, InDesign brochures, or external videos.
Sharepoint can also get a little disorganized when users edit or re-upload files that do not have the same exact file name as the existing file already in Sharepoint. When file names are inconsistent, they are not grouped together as "revisions." Instead, files with updated names will appear as a new file in the document library rather than as a version of the already-existing file. This results in duplicate files floating around and makes it more difficult to find the exact, most up-to-date file you need.
However, the biggest con of Sharepoint is that it's really only for internal teams to collaborate and doesn't allow for public-facing usage. If your business works with distributors or outside sales teams, they may not be able to access the files they need in a simple or organized way.
Brandfolder: A Better System for Version Control
Unlike Sharepoint, Brandfolder is a digital asset management software, so it does far more than just manage file versions. With Brandfolder, teams can upload any type of digital file, whether it be a Microsoft Word document, a Google Sheet, a Photoshop image, a Hubspot file, or a video from a third-party site; collaborate with their team on updates; and view the detailed version history of those files in one easy-to-navigate window.
With Brandfolder, teams can:
Annotate any file type, including videos, and work through comments before ever exporting a file for changes
See exactly when changes were made to a file, and who made those changes
Maintain brand consistency through the check-in/check-out process for files
Share up-to-date files with anybody with a customizable share link
Let's walk through Brandfolder's different workflow and versioning capabilities to highlight how our software differs from Microsoft Sharepoint.
Brandfolder's Workflow Features
Once you're in Brandfolder, you can search files via:
Collections & Sections: Collections are groups of related files meant for specific users and sections are broad types of related content, such as logos, colors, fonts, headshots, social media assets, etc.
Tags: Pin tags are preset, generic search terms you can select to filter out the types of assets you don't need, and find the files you do.
Search terms: Even if you don't know the exact name of the file you need, you can still use the search bar to find specific files.
Our Brand Intelligence machine-learning system adds smart tags to every file, so you can search everything from terms or phrases in a file to items or colors in a photo. Our Video AI feature transcribes all video files, too, so when searching video, you can type a quote from the video in the search bar and our search will narrow down the results to pinpoint what you need.
Once you click the desired digital file, a window will appear with an overview of the file you're viewing.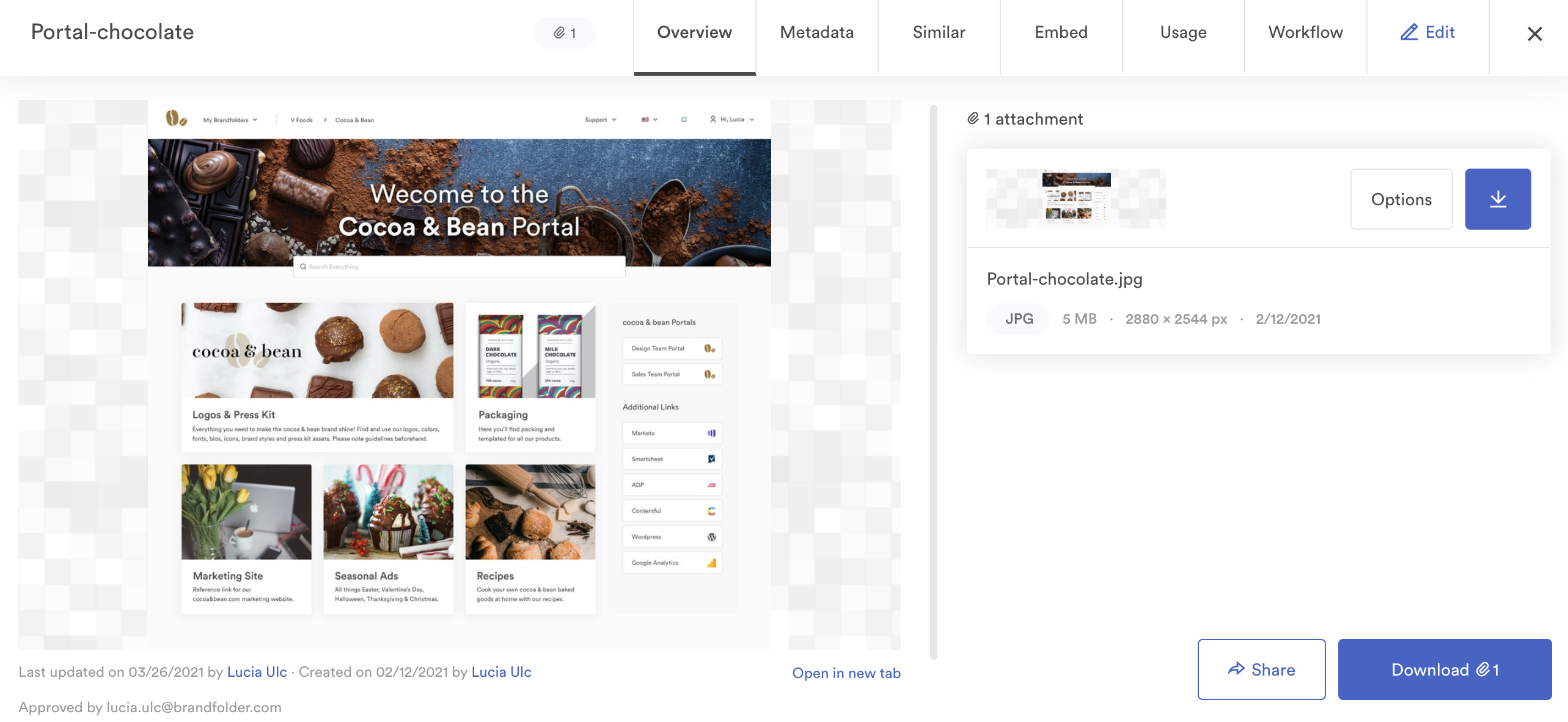 Within this window are tabs with extra information on the specific digital file you're working with. The Metadata tab compiles all of the file's metadata, the Similar tab shows all duplicate or similar files, the Embed tab generates a CDN link to use the file on other websites, the Usage tab allows admins to view file analytics, and the Workflow tab allows teams to collaborate on a file right within Brandfolder.
From the Workflow tab, you can annotate the file and work with other team members in real-time on potential changes. Once you've worked through all comments with your team and determined how a file should be updated, you can then check the file out to make changes.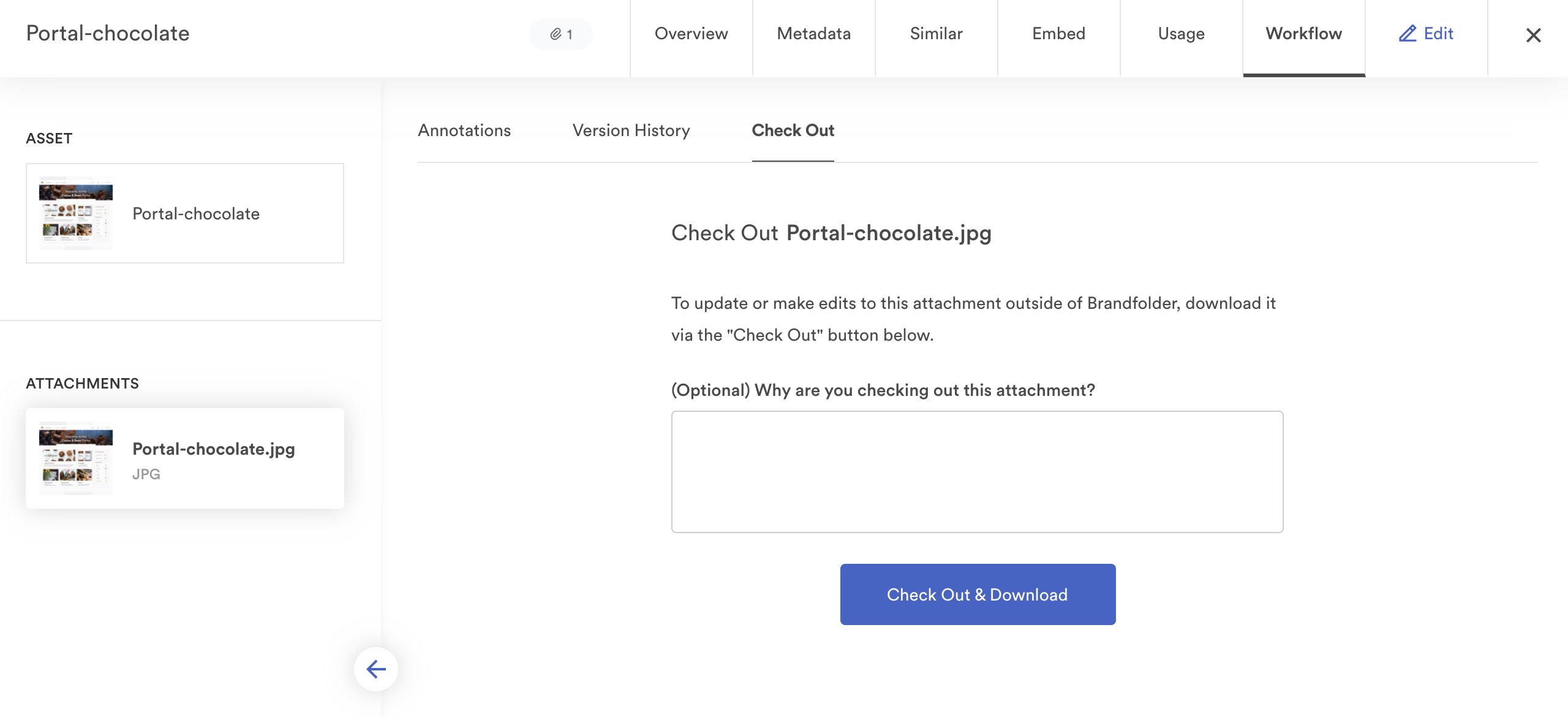 To check a file out, select the Check Out button on the Workflow menu bar. After you've made the appropriate changes in the file type's third-party application (e.g., Google Drive, Photoshop, Canva, Hubspot, Vimeo, etc.), you can then check the file back in.
Checking a file out prevents other users from downloading the file while it's still being updated. Note: *Users can still view these files and all of their information within Brandfolder, but they're temporarily labeled as unavailable for download. This prevents users from downloading and using outdated versions of a file. *
Within this Workflow tab, users can also view the file's version history by selecting the Version History button.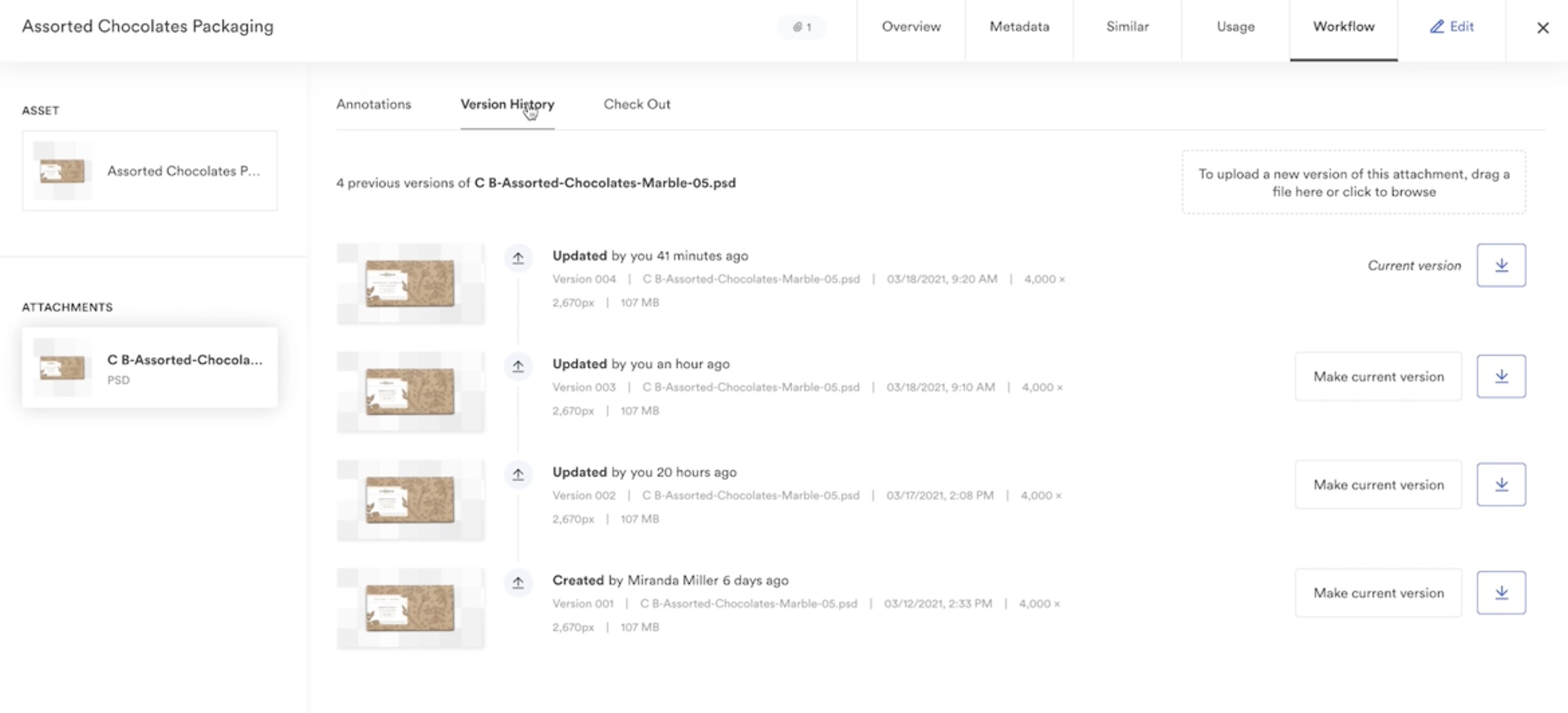 Within Version History, users can view when a file was created and updated, who made changes to the file and when, and the file type and size. Each version is assigned a version number, too, so there is always a trail of breadcrumbs for users to follow when navigating through past versions of a file.
In addition, users can also restore and download past versions within the Version History tab. The Make Current Version button allows users to take an old version of a file and update it to the most latest version. The Download button beside it lets users download a past version of a file and edit it for their specific needs.
Thanks to the check-in/check-out process and automatic prompts from Brandfolder to ensure that all types of the same file are stored in one place, it is nearly impossible to have duplicate files scattered throughout your Brandfolder workspace.
Best of all? All files can be shared with internal or external parties by adding guest users (for free) or by sending a share link. This makes Brandfolder a viable option for businesses who work with vendors or distributors, while SharePoint is only good for internal use.
What Brandfolder Can Do for You
Better version management isn't the only benefit of Brandfolder. Our software serves as a single source of truth for all digital files. You can easily import, merge, edit, locate, and access all files within.
Brandfolder allows users to manage and share all types of digital files with a variety of users, ultimately saving teams time, improving file organization, and maintaining brand consistency.
Between different storage options and extra add-on features, we've designed our software to work as a solution for businesses and teams of all sizes, and our customer experience team is trained to help each client pinpoint the specific features they need from our software in order to leverage it to its full potential.